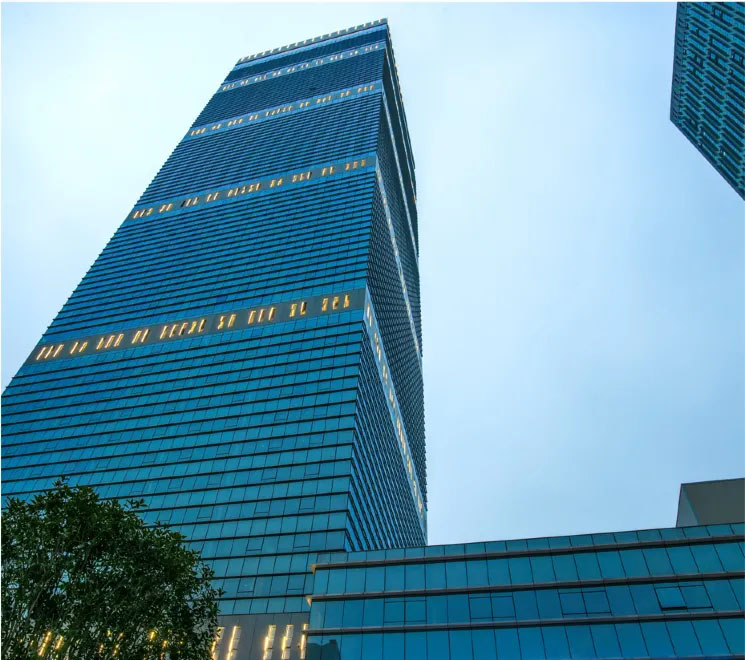 Anhui is known for its ink painting and distinctive architecture. Combining modern design with the classic Hui style and natural apace famous French designers developed the design and created the landmark art space of Binhu New District–HUIFENGWANYUN HOTEL HEFEI. A range of space designs from the hotel lobby to the meeting room reflects a simple and harmonious design style, creating a charming urban fashion residence.
With a height of 238 meters, the new landmark hotel, located near Chaohu Lake, is nestled in a dynamic business, shopping and entertainment district. The hotel is 3.6 kilometers away from Binhu International Exhibition Center, 8.4kilometers away from Hefei South Railway Station, and 50 kilometers away from Hefei Xinqiao International Airport.
Located on floors 39 to 53, the hotel has 335 elegant guest rooms and suites ranging from 45 to 316 square meters. Large window fronts overlook the Chaohu Lake and give panoramic views of the city. Drawing inspiration from the Hui style, the design of the guest room is elaborate and fashionable, integrating the charm of classic Huizhou conception and the essence of modern trend. Each room is equipped with the latest facilities, including high-speed internet access, large LED televisions, custom-made beds and spacious bathrooms with separate bathtub and shower. Stay with us and embrace exceptional refinement and comfort.
Let Elevate your meeting. Our flexible event spaces can easily adapt to your vision, whether you are planning a group event or a business meeting. Our expert team will take care of all the details, helping your attendees stay focused and productive. With the superior meeting facilities including a Grand Ballroom of nearly 1,800 square meters, and nine conference rooms, the flexible meeting space is equipped with advanced audio-visual technology equipment, which is ideal for all kinds of social events and banquets. You are guaranteed innovative cuisine, attentive service, extraordinary taste and distinguished experience.
The hotel offers four unique dining concepts. MEET All-day-dining restaurant provides international cuisine in a comfortable environment. M Lounge, an all-day-venue for authentic afternoon tea and snack food. Guest can also indulge in authentic Cantonese cuisine and high quality local delicacies at HUIYUN Chinese Restaurant. Paired with innovative cocktails, shared platters and tapas style dishes, guests are served while enjoying live music in Zenith Bar & Restaurant. Located on the ground floor. A restful cozy corner in the metropolis, the executive lounge with sky garden has extensive views that bring you a relaxed moment with joy. The hotel's state-of-the art and fitness address your total wellness needs. Shake off tensions with a session at the gym or pool, or relax with a pampering spa treatment.